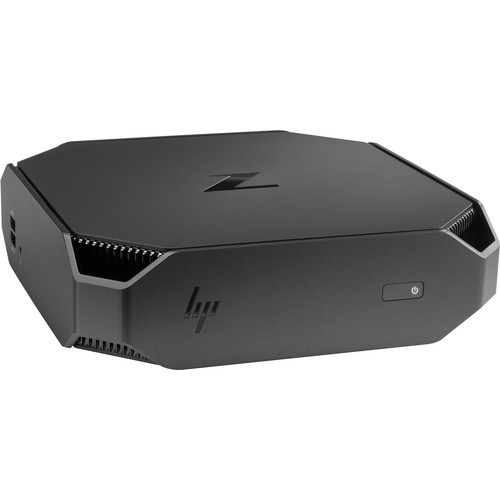 Manufacturer: HP
Basic description and contents of package
Product classification: Computers – Desktops & Workstations – PC Workstations
Safety instructions
Startup and operation of the PC Workstations
Tips for setting up your HP
Settings and expert assistance
Contact HP service
Troubleshooting
Warranty information
The user manual for the HP Z2 Mini G3 Desktop Workstation 2UA29UT#ABA provides necessary instructions for the proper use of the product Computers – Desktops & Workstations – PC Workstations.
Made by and for design professionals, such as CAD users, the Z2 Mini G3 Desktop Workstation from HP delivers power, performance, versatility, and reliability in a small and elegant design. At 2.28″ high, it is 90% smaller than a traditional business-class tower. The Z2 Mini has been tested for 368,000 hours and is certified for popular CAD software titles.
The system is powered by a 3.6 GHz Intel Core i7-7700 Quad-Core processor that will allow you to run multiple applications simultaneously and be boosted up to 4.2 GHz. The 8GB of 2400 MHz DDR4 RAM helps to ensure smooth multitasking and also allows the computer to quickly access frequently used files and programs. While the current memory configuration is 1 x 8GB, there are two 260-pin SO-DIMM memory slots that will allow the RAM to be upgraded to 32GB, using a 16GB chip in each of the two slots.
For storage of your files, a 256GB Z Turbo Drive G2 PCIe SSD offers quick access to your data, and there is also an empty 2.5″ / 9.5mm drive bay for a SATA hard drive or SSD. If you want to add external storage drives or other peripherals, the Z2 Mini features two USB 3.0 Type-C and four USB 3.0 Type-A ports, with one of the Type-A ports doubling as a charging port. The dedicated NVIDIA Quadro M620 graphics card has 2GB of GDDR5 RAM, delivers a sharp, clear picture, and features four DisplayPort 1.2 outputs which support a maximum resolution of 4096 x 2160 @ 60 Hz. Whether you are listening to music, watching a movie, or playing a game, the integrated Realtek HD ALC221-VB audio controller outputs high definition audio and delivers higher fidelity than standard audio controllers.
The Z2 Mini G3 Desktop Workstation can either be placed on a flat surface, mounted behind a display, or under a desk. It includes an HP USB Business Slim Keyboard, an HP USB Optical Mouse, and a power cord. It runs using a 200W external power supply that is 89% efficient and operates using 100-240 VAC at 50-60 Hz. The installed operating system is Windows 10 Pro (64-bit).
B&H Photo is an authorized HP reseller with professional in-house technicians available for upgrades & installations on these workstations and laptops. Built with power and speed in mind, the Z Series is designed to enhance audio and video post-production workflows and more. Each HP Z series workstation or laptop features a range of top-tier processors and large RAM loadouts. The workstations are built with graphics flexibility in mind as well so that the end consumer can configure the graphics options to their needs, and each unit includes a 3/3/3 warranty – 3 years limited warranty for parts, 3 years limited warranty for labor, and 3 years of repairs performed at customer site for those parts not eligible for Customer Self Repair (CSR). For 24/7 customer service, please call 1-800-334-5144.
You can upload and download the manual for the HP Z2 Mini G3 Desktop Workstation 2UA29UT#ABA in the following formats:
The user manual for the HP Z2 Mini G3 Desktop Workstation 2UA29UT#ABA can be downloaded in .pdf format if it did not come with your new PC Workstations, although the seller is required to supply one. It is also quite common that customers throw out the user manual with the box, or put the CD away somewhere and then can't find it. That's why we and other HP users keep a unique electronic library for HP PC Workstationss, where you can use our link to download the user manual for the HP Z2 Mini G3 Desktop Workstation 2UA29UT#ABA.
The user manual lists all of the functions of the HP Z2 Mini G3 Desktop Workstation 2UA29UT#ABA, all the basic and advanced features and tells you how to use the PC Workstations. The manual also provides troubleshooting for common problems. Even greater detail is provided by the service manual, which is not typically shipped with the product, but which can often be downloaded from HP service.